A publication of the UWEC WG
Europe prepares for a winter without Russian energy
Executive Director of the International Energy Agency Fatih Birol warned that European Union countries may find themselves without natural gas or other Russian energy resources at the onset of the heating season this winter. In his opinion, blocking fuel deliveries to European countries already demonstrates that Russia will use energy as a pressure point in the war against Ukraine.
At the same time, Birol said that he supports a temporary return to the use of coal-fired thermal power plants and suspending nuclear energy phase out programs. He views this as an optimal solution that will be compensated by acceleration of green transition programs. True, he did not explain when this acceleration would occur and whether it would already be too late for Europe and the whole world.
Birol also called for increased investment in renewable energy, the only guarantor of stability in the industry.
Recall that after the leaders of France, Germany, and Italy visited Kyiv last week, Gazprom reduced natural gas supplies to these countries without explanation. Nord Stream supply volumes, for example, fell from 167 million cubic meters per day to just 67 million.
German Economy and Climate Change Minister Robert Habeck called the supply cuts a unilateral political decision by the Russian government. He specifically noted, "We must not deceive ourselves. An end to gas supplies is an economic attack by Putin on us. Obviously, Putin's strategy is to create uncertainty, drive up prices, and divide us as a society."
Meanwhile, Germany has raised its energy emergency level to level 2. At level three, the government will take control of energy distribution in the country and shift gas supply rationing to "manual mode".
Habeck urged German homeowners to change their habits and specifically to reduce energy consumption. However, he also warned energy suppliers against shifting financial responsibility. According to him, only consolidated actions by German society will make it possible to avoid an emergency situation.
Although the German government has increased the budget for alternative supply sources by €15 billion (particularly from Norway), the environmental community points out that dependence on fossil fuels is always a weak energy policy. Only the development of renewable energy sources and energy efficiency programs make it possible to have a sustainable industry and protect society from energy emergencies.
Meanwhile, the Renewable Global Status Report 2022 established that energy demand is on the rise today. Although the share of renewables in the global mix increased slightly from 10.6% to 11.7%, carbon fuel shares remained almost unchanged (79.6% versus 80.1%). This indicates that we are consuming more carbon fuel, mainly in the transport sector.
However, as Rana Abid, Executive Director of REN21 noted, despite some industry stagnation, renewable energy remains the best way to overcome the crisis. Teresa Ribera, a vice president in Spain's government, agrees with her: "With the right investments in technology, renewables are the only energy sources that give every country in the world a chance for greater energy autonomy and security."
War continues to have catastrophic impacts on the Black Sea ecosystem
One of the key developments of last week was news of the 20 June shelling of a Russian gas production station located in the occupied Black Sea and owned by Chernomorneftegaz. It is important to note that it was a gas production station, and not oil, as some media sources stated. Reuters fact-checked inaccurate information that linked older oil spill video footage to this incident.
One way or another, the Black Sea is within today's war zone and is suffering extremely negative impacts on its ecosystem. In particular, during the recent shelling of gas platforms, the Zernov Phyllofornoe Field botanical refuge was damaged, in an area where resource extraction was also occurring.
This refuge was established in 2008 with the aim of preserving a large colony of red Phyllophora algae. The protected area is also part of Europe's Emerald Network. However, extensive gas and oil production by Chernomorneftegaz in the region in 2019 have almost completely destroyed the site's value. Military activity in the area could see the final disappearance of an algae colony that is important to the whole Black Sea ecosystem.
During an interview with NV Ukrainian media, director of the Ukrainian Scientific Center for Marine Ecology Viktor Komarin noted that several types of pollution stem from military operations. The biggest source is fuel and oil pollution from military vessels and aircraft. For example, after launching missiles, submarines dump spent fuel. That fuel then coats the sea surface with a film and, as a result of water mixing, enters the aquatic environment, poisoning organisms.
Sunken vessels also pose a threat to ecosystems. They not only spill fuel but pose a whole host of other potential threats, potentially including nuclear weapons. Ammunition contamination risks include nickel, tungsten, tin, lead, and even extremely dangerous substances such as white phosphorus.
Komarin noted that the destruction of coastal water treatment facilities can also lead to sea pollution. Shelling of the Azovstal site and its storage reservoirs and tanks are a significant hazard to the Black Sea.
All of these factors can lead to the toxins accumulating in commercial fish species which, in turn, affect human health. Hostilities can also sink ships, resulting in fuel spills that negatively affect national parks and reserves. For example, scientists are now tracking an oil slick moving gradually toward Tuzlovsky Estuary and Svyatoslav Beloberezhye, both globally important protected areas.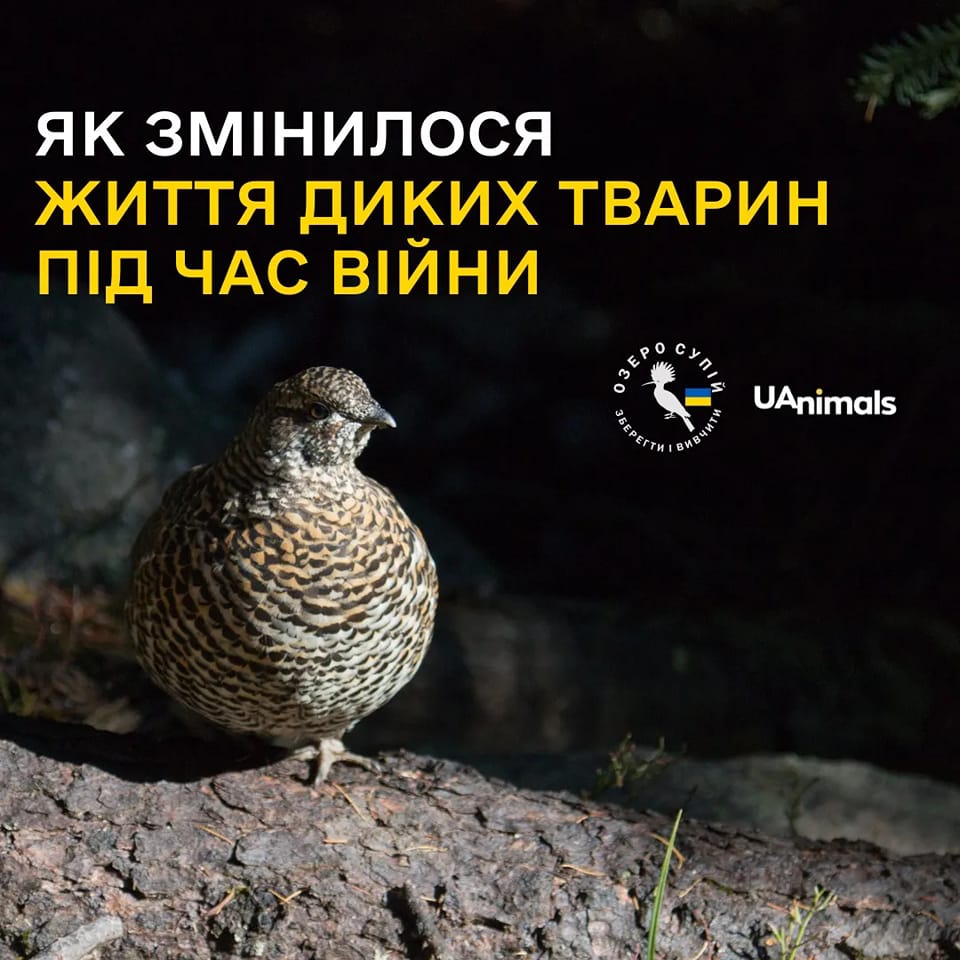 War's impacts on wild animals
Together with partners at the Lake Supii Center for the Study of Nature, Culture, and Architecture, specialists at UA Animals Community Organization conducted a study of the war's impact on lake ecosystems in the Supii River basin near Kyiv. The landscape is a flyway for migratory birds and one of the lakes is a protected area – Usivsky Refuge.
The study showed that the introduction of martial law halted hunting in those areas where it was previously permitted. This has led to population increases in some species, including the Steppe gull (Larus cachinnans).
It is also clear, however, that war has a negative impact on wild animals populations. Many are killed during fires caused by the fighting. Since the war began, hostilities have occurred in 200 territories inscribed in the Emerald Network. This points to the impossibility of conducting wildlife conservation activities over a 2.9 million square kilometer area that is home to rare and valuable species.
World War II was the last large-scale war to take place in the region and it had significant impacts on ecosystems. The Polesye population of Brown bear, for example, was almost completely wiped out.
UA Animals works to help wild and domesticated animals during the war. They have organized the evacuation of animals from zoos, animal shelters, and are also simply feeding animals that cannot be evacuated. You can learn more about the organization's work and make a financial contribution through their social media.
Funding for war environmental impact analysis projects
"Ecology-Law-People" (EPL), an international charitable organization announced that it recently held a call for project proposals seeking to support Ukraine's Ministry of Environmental Protection and Natural Resources in its efforts to monitor the state of the environment during the war. Projects will participate in assessing and calculating damage resulting from Russia's invasion of Ukraine.
Organizations will develop both methods for assessing biodiversity damage and for analyzing potential declines in ecosystem services in war-damaged areas. It is envisaged that the projects will create an optimal set of the research tools needed to understand the war's environmental consequences.
The following NGOs were awarded project support: Ecosphere, Ecosocium, Ukrainian Nature Conservation Group, Kherson Regional Branch of the Ukraine Sociological Association, Merry Dolphin, Black Sea-Odessa Regional Branch of the Ukrainian Ecological Academy of Sciences, and the Institute of Ecology.
The UWEC team will follow these projects closely and looks forward to sharing news of their progress and successes.
CERN will end its cooperation with Belarus and Russia in 2024
During its 208th meeting, the European Organization for Nuclear Research (Conseil Européen pour la Recherche Nucléaire, CERN) decided to end cooperation agreements with Russia and Belarus after they each expire in 2024. Without "positive progress to stop the aggression" in Ukraine, CERN will not renew these partnerships.
In a statement released 17 June, CERN's governing council noted that the organization was created after World War II to unite scientists from different countries around the peaceful pursuit of science. Its main goal is cross-border scientific cooperation as a driving force for peace. For this reason, aggression of one country against another is contrary to the organization's founding principles.
CERN condemned the military invasion of Ukraine and chose to allow its cooperation with Russia to expire in December 2024, as well as with Belarus, whose collaboration agreement runs out in June 2024.
Belarus has been a CERN partner under an international agreement since 1994, while Russia only entered a formal collaborative relationship in 2019. Prior to this, cooperation occurred under the framework of several programs. Russia has had observer status since 1991.
Ending cooperation with the two countries could result in serious problems for scientific research and monitoring. One of the largest projects implemented under CERN auspices is the famous Large Hadron Collider. Russian scientists participated in the collider's development and component testing, and it is not yet clear how joint research will continue.The agreements' termination may mean that roughly 18,000 researchers find themselves on the sidelines of modern peace-building science. In the case of CERN, this relates specifically to the field of physics, including nuclear physics and such isolation could potentially be dangerous for all mankind.